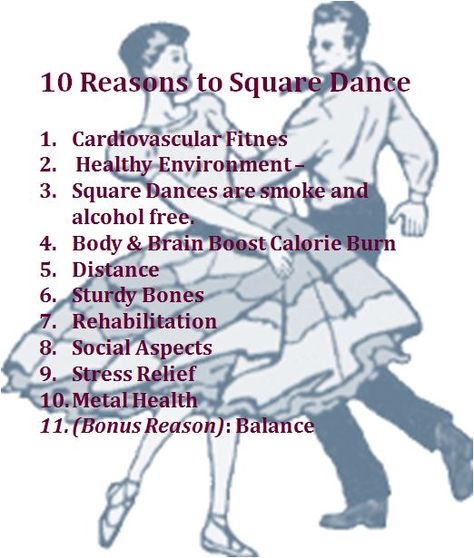 Welcome to the
Central Okanagan's
square dance promotional page...
Announcing New Dancer Sessions!
Presented by the long-running Westsyde Squares,
Square & Round Dance Club of the Central Okanagan.
You'll be surprised when you have
loads of fun on the dance floor!
* 26 lessons in the Square Dance Mainstream Program
(These are split into 2 parts -- First 12 lessons, Sept.-Dec.
and then 14 lessons, Jan.-Apr.)

* Lessons Begin September 18, 2019, 6:00-7:30 p.m.

With a FREE INTRODUCTORY session on Sept. 11 from 6:00-7:30 p.m.
That's our "Bring a Friend Night"
* in West Kelowna.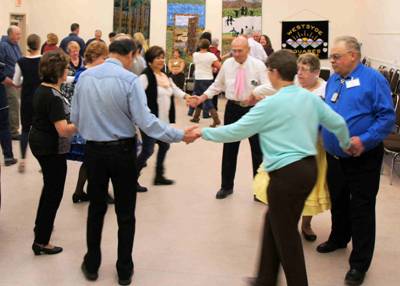 Over 40 dancers enjoyed a free introductory session
on Wed. Jan 13, 2016, in the hall at the
Westbank United Church.
Apart from the fun,
you'll meet lots of friendly people
improve your cognitive abilities,
and be on your way to improving
your fitness level (burn 320 calories/hr.), and relieving stress.

For many, it becomes a source of lifetime fun!


You've got to try this great social recreation!

Attend in comfortable, casual clothes -- as a single,
with a partner, or bring family & friends!
Low-heeled, soft-soled, snug footwear
is suggested.
Your weekly instruction period will run for 1½ hours
PLUS a half hour of dancing, at your program level,
with the accomplished dancers in the club.

It would be great to hear
that you plan to attend.
Contacts:
Bill & Bev Holland (250 707-0750
Terry & Linda Green (250) 494-1406
News Flash!
On Jan. 14, 2015, Global Okanagan TV News featured
our free January 13th 2015 introductory session
on their news broadcast.
View the report on their web site and
be sure to read the story behind it.
Titled:
"Square dancing moves to a new rhythm, younger voice,",
See the story at the following web link:
http://globalnews.ca/news/2452995/square-dancing-moves-
to-a-new-rhythm-younger-voice

Answers to your most
Frequently Asked Questions:

Is square dancing really such good exercise?
Not only is it a great physical exercise
but it keeps the mind active and alert as well.
(BUT -- to keep things interesting -- after dancing
we take time to socialize and eat goodies!)

Do wear comfortable clothing & shoes ~ as you
will be burning up to 320 calories an hour!

What sorts of people are square dancers?

All sorts of people ~ singles, couples,
teens and preteens, college students,
young adults, Boomers & senior citizens!
As there are square dance clubs
in countries all around the world ~
you can now travel almost anywhere
and still be able to square dance ~
because the calls are always done in English!

Images of traditional square dancing
depict the ladies in poofy dresses--
what's the dress code now?
The traditional attire has certainly been modernized.
New dancers are urged to just dress comfortably.
Once participating at a club level,
men usually wear slacks or jeans
with western cut long-sleeved shirts

Ladies wear a blouse with a "prairie skirt",
(or any comfortable skirt, or pants), or
they can choose to wear the traditional
full skirt with a crinoline.

We also bring clean-soled "inside" shoes
to protect our dance floors.


I don't have a partner ~ will that be a problem?

Many square dance clubs have single members
and do their best to keep them dancing.
Some single women are now choosing to learn
what has traditionally been the man's part.
This way they get to dance a lot more and are
assured of a variety of dance partners.


How is a square dance sequenced—do you go for a long time?

Once you have learned a number of the calls
in the initial program, the caller will
begin to conduct 10 to 15 minute sequences
made up of 2 parts, called a "tip:"

The first part is known as "patter", where the caller
gives the dancers in the square spontaneous "calls"
that can also serve as practice for calls that will
be used in Part 2 -- the "singing call."
The singing call contains a choreographed sequence of moves
set to popular music, where the caller weaves in and out of
of the lyrics to direct you around the square,
and eventually, to end with your original partner.
Many dancers socialize on the sidelines between the "tips."


What is Round Dancing?

Round dancing is choreographed ballroom dancing
where all the steps are "cued" over a microphone
by a leader known as a "cuer." It's a companion
dance form to the square dance, but not one
that a newcomer to square dancing has to learn.
(If you wish to do so, that is a different set of lessons.)
The man doesn't have to "lead" the lady in round dance.
As couples, the dancers move in unison
gracefully around the floor, in a large circle.
Some of the most common steps are the two-step
and waltz, but many other steps can be learned.
Round dancing is usually enjoyed between the square dance
portions of a dance, and a half hour dedicated to round
dancing often opens a typical square and round dance event.


How much will it cost me to join the fun?
The sessions are competitively priced relative
to other recreations. The dance club needs funding
to advertise, rent the hall, and pay the instructor.
The registration fee for the 23 weekly sessions
are as follows:
$230/person or $460/couple ($10/session per dancer).
Unfortunately, a "drop-in" system doesn't work
because the instruction is progressive.


What attracts most square dancers to the recreation?
The biggest motivations seem to be
the FUN and the socialization.
You get to meet so many friendly people.
Also, as you're moving to enjoyable music
concentrating on the calls
and interacting with others as a team,
you forget that you're also EXERCISING --
doing something healthy!

---------------------

Give today's style of square dancing a try.
You really will be in for a great experience—
be prepared to smile and laugh... lots!


Want to learn more?
Watch a 10-min. promotional video
that tells in story-form the many benefits of square dancing
and shows the learning process incolved:
https://www.youtube.com/watch?v=my8Ckx0bGG4


Have a look at one of our new dancer sessions
from a few years back on YouTube, revealing the fun
teaching style and great singing voice of our
young instructor, Dustin McGifford of Kelowna.
https://www.youtube.com/watch?v=1E1p2eQK4pM


Read about the many holistic health benefits of square dancing
at the BC Square & Round Dance Federation website.
[You will find it in the top menu, under "About Dancing"]:
http://betterhealth.squaredance.bc.ca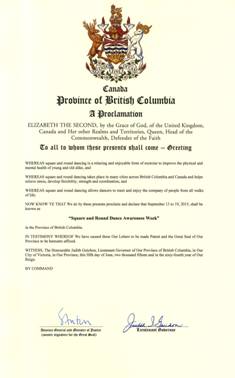 The Government of British Columbia
annually recognizes the fitness benefits
of square and round dancing,
the social advantages, and the recreation's
wide availability throughout the province.


View the promotional web page
of the non-profit
B.C. Square & Round Dance Federation
that ends with a list of new dancer sessions
around the province:
www.TakeMeDancing.squaredance.bc.ca
Learn more about the Westsyde Squares dance club
on our web site at:
www.Westsyde.squaredance.bc.ca
Live Lively!